CEI co-hosts the biennial Evidence and Implementation Summit. Join the next event on 9-11 October 2023.
The Evidence and Implementation Summit (EIS) focuses on the intersection of research, policy, and practice, sharing advances in the fields of evidence synthesis and translation, evaluation, and implementation science. The next Summit, which will be co-hosted by CEI, the Centre for Behavioural and Implementation Science Interventions (BISI) and Monash University and partners, will take place from October 9-11, 2023. A recorded pre-event virtual webinar series has begun, and announcements about the call for abstracts, the invited speaker program and registration options will be made shortly. Subscribe for updates via the Summit website www.eisummit.org.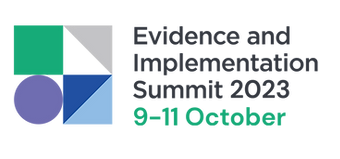 EIS2021 marked 12 years since the creation of the event series, and it once again delivered a dynamic program focused on high-quality dialogue and debate on cutting-edge topics in the sector. A summary of some of the key discussions and content is available here.
Supported by 10 global partners, the 2021 event delivered 21 hours of live presentations and discussion events each day. Pre-summit, the organisers ran an EIS virtual series featuring six free webinars (still available to view). Delegates were also able to access 40 hours of pre-recorded content and two workshops alongside a design hackathon for early career researchers. 
The EIS is an evolution of the Australian Implementation Conference and the Global Evidence and Implementation Summit.