CEI co-hosts the global biennial event, the Evidence and Implementation Summit, and its aligned webinar series.
The Evidence and Implementation Summit (EIS) brings together global experts and innovators to examine the synthesis, generation, translation and implementation of evidence for better policy and practice.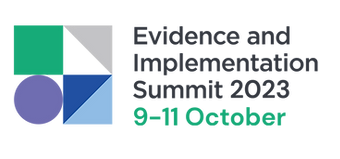 Policymakers, researchers, implementation scientists, program evaluators, practitioners, academics and organisation leaders are invited to debate how we can best apply high-quality evidence to create more effective policy and programs – with the power to improve outcomes for individuals and families.
Running 9-11 October, EIS 2023, offers more than 200 presentations, 10 international speakers and 70 hours of professional development.
EIS 2023 is co-hosted by CEI, the National University of Singapore's Centre for Behavioural and Implementation Science Interventions (BISI) and Monash University.
Full program and registrations HERE

The Evidence and Implementation Summit (EIS) is an evolution of the Biennial Australian Implementation Conference, first held in 2012. Building on this successful model, the 2018 event was dubbed the Global Evidence and Implementation Summit. 
Emerging from the Covid-19 pandemic, the event became the Evidence and Implementation Summit (EIS) in 2021.
For the first time in the event's history, the Summit in 2021 was completely virtual, with an international audience of nearly 2,200 participants. Supported by 10 global partners, 21 hours of live presentations and discussion events were delivered each day.
In 2023, EIS returns to an in-person format at the Melbourne Convention and Exhibition Centre (Australia), with virtual attendance available worldwide.
An insightful series of EIS Virtual webinars is available to view free and on demand.
Key content from each of the past events is available HERE 
Subscribe for updates at: www.eisummit.org